At times, the rules and terminology that govern wine are not easy to understand and can create confusion. Vino de Pago is one of those terms that are either misunderstood or unknown to most. The one thing you can count on when tasting a Vino de Pago is that you're guaranteed to be tasting a wine that showcases its terroir like no other.
What is Vino de Pago?
The term Vino de Pago was introduced in 2003 as part of the change in laws governing vineyards and wine in Spain (Ley de la viña y el vino). Before this updated legislation, wines in Spain were classified into four different levels of quality: Vino de Mesa (Table wine), Vino de la Tierra (or IGP "Protected geography indication), Denominación de Origen (Denomination of Origin) and Denominación de Origen Califacada (Qualified Denomination of Origin). Vino de Pago was introduced as a new level of quality that was to be at the top of the pyramid to recognise single estates that produced singular and unique wines. It was the Spanish answer to the French "Cru".
Wineries that attain the Vino de Pago denomination, become their own appellation and are often found as small islets within a larger appellation. Estates are awarded this special denomination because of their unique microclimate and soils that produce vines and grapes that are capable of creating wines with unique characteristics and of higher quality when compared to the surrounding region or appellation.
The word Pago comes from the Latin 'pagus', meaning rural district. Later, the word was used to name the area of a town with borders that run along with natural features such as mountains, rivers, and valleys.
Until 2003, the word Pago was already used by some wineries, a few famous names included Pago de Los Capellanes and Pago de Carraovejas, both excellent producers in Ribera del Duero DO. The change to the law meant the word Pago was banned from being used in wines other than those from recognised Pagos. Wineries and wines historically labelled Pago before 2003 were allowed to keep doing so.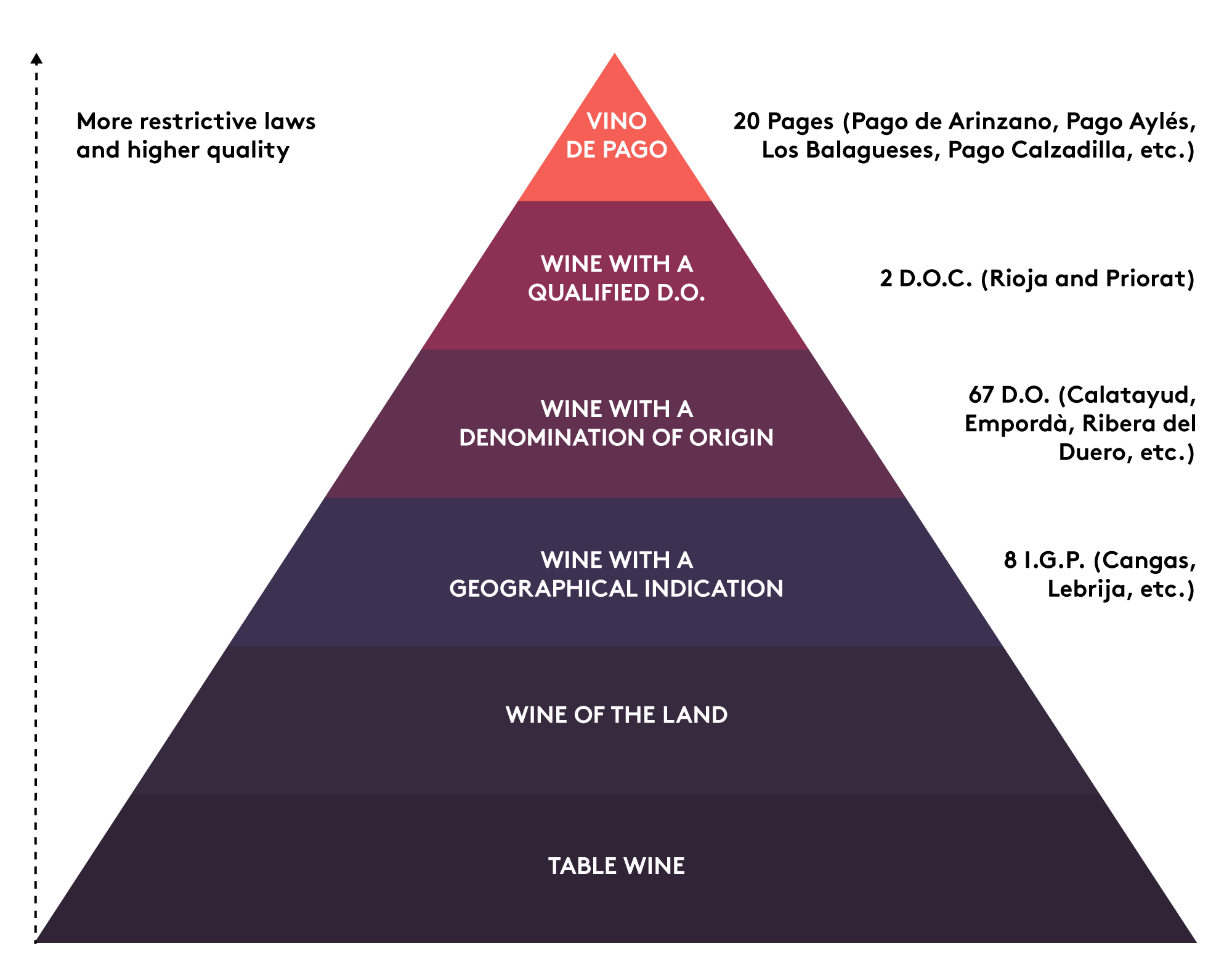 What requirements do estates need to meet in order to become a Pago?
A Pago is a piece of land or a rural area that possesses unique soil and microclimate characteristics that are different from those surrounding it. An estate must have produced its wine and received industry recognition for outstanding quality and uniqueness for a minimum of five consecutive years to be considered for the Pago denomination. Wines must be made by the owners of the Pago, and be stored and aged separately from other wines that the winery may produce.
Strict quality measures must be implemented that track in minute detail, all processes from the vineyard, up to the point a wine goes on the market. This system has to at least meet all the criteria established for DOC (qualified denomination of origin).
How many Pagos are there in Spain?
There are currently 20 Pagos, located mostly in Castilla-La Mancha:
Aragón:
Pago de Aylés (Zaragoza)
Castilla-La Mancha:
Pago de la Jaraba (Albacete)
Pago Guijoso (Albacete)
Finca Élez (Albacete)
Casa del Blanco (Ciudad Real)
Dehesa del Carrizal (Ciudad Real)
Pago Florentino (Ciudad Real)
Pago Los Cerrillos (Ciudad Real)
Pago Vallegarcía (Ciudad Real)
Pago Calzadilla (Cuenca)
Campo de la Guardia (Toledo)
Dominio de Valdepusa (Toledo)
Navarra:
Pago de Arínzano (Navarra)
Pago de Otazu (Navarra)
Prado de Irache (Navarra)
Pago Finca Bolandín, Bodega Pago de Cirsus (Navarra)
Valencian community:
Pago El Terrerazo, Bodegas Mustiguillo (Valencia)
Los Balagueses ( Valencia)
Pago Chozas Carrascal (Valencia)
Pago Vera de Estenas (Valencia)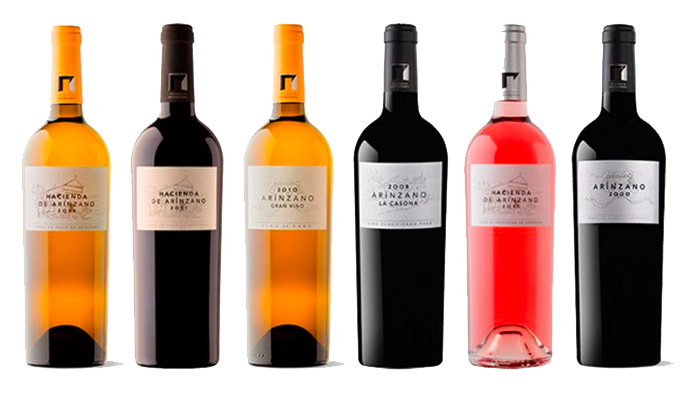 Pago de Arínzano
The Arínzano estate is located in Navarra, halfway between the Navarran capital, Pamplona, and Logroño, the capital of La Rioja. Its location next to the river Ega, in a small valley surrounded by holm oaks and black poplars, provides a special microclimate allowing the cultivation of vines that produce high-quality grapes.
Of the 355 ha of vineyards that belong to the estate, 128 ha are used to produce Vino de Pago and are dedicated to growing four grape varieties: Tempranillo, Chardonnay, Merlot and Cabernet Sauvignon.
The winemaking process is extremely hands-on with grapes from each parcel fermented separately. Wine ageing occurs solely in French oak barrels, with multiple taste tests to decide how long to age until blending and/or bottling. The top wines produced by the estate are two varietals made of Tempranillo and Chardonnay.
The first mention of wine at the Pago can be traced back to the 11th century when nobleman Sancho Fortuño de Arínzano founded the estate. The Finca (the manor and surrounding land) is made up of a few very interesting, historical buildings. The entrance to the winery was designed by a famous Spanish architect, Rafael Moneo, who won the Pritzker prize for architecture and the Príncipe de Asturias de las Artes 2012 award. Inside the Finca, one can find the Tower of Cabo de Armería dated from the 16th century, the Casona (country house) from the 18th century, and the neoclassical church from the beginning of the 19th century which is dedicated to Saint Martin of Tours.
The winery is not only devoted to producing wines but also hosts events and weddings, and offers high-quality rural accommodation as well. To find out more, visit www.arinzano.com.